Arizona Laws Against Human Trafficking
---
The U.S. State Department has declared the state of Arizona is a main destination and transit point for labor and sex trafficking, both nationally and internationally. Because of Arizona's proximity to Mexico, San Diego and Las Vegas, the warm weather, infrastructure and freeways, and is the preferred venue for major conferences and a lot of professional sporting events, human trafficking has been very prevalent. According to the National Human Trafficking Hotline, Phoenix ranked 16th on the list in 2016 with 478 calls, making up 1.76 percent of calls nationwide. Of the human trafficking cases called in, eighty percent of the individuals trafficked were women and girls. The average age of human trafficking victims of sexual exploitation is 19 years old. Because of this, Arizona has some of the toughest human trafficking arrest laws anywhere in the nation.
Human Trafficking Defined
On broader terms, human trafficking is defined as the illegally trading human beings for the purposes of reproductive slavery, commercial sexual exploitation, and forced labour as it occurs in the state of Arizona. If is often seen as modern slavery. Based on its legal definition, to "traffic" means to entice, recruit, harbor, provide, transport or otherwise obtain another person by means of threat or use of force or other forms of coercion, of abduction, of fraud, of deception, of the abuse of power, or of a position of vulnerability or of the giving or receiving of payments or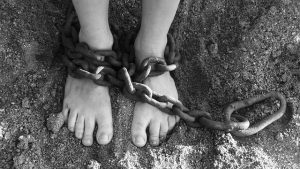 benefits to achieve the consent of a person having control over another person, for the purpose of exploitation. Forms of exploitation include the prostitution of others or other forms of sexual exploitation, forced labor services, slavery or practices similar to slavery, servitude or the removal of organs.
In Arizona, human trafficking is defined as the trade of human beings for the purpose of sexual exploitation, commercial exploitation, and slavery. Forced labor is also considered as a form of human trafficking.
Forced Labor as a Form of Human Trafficking
Under Arizona law, "forced labor" means labor or services that are obtained from a person forced to work through:
Causing or threatening to cause serious physical injury to any person
Restraining or threatening to physically restrain another person
Knowingly destroying, concealing, removing, confiscating, possessing or withholding another person's actual or purported passport or another immigration document, government-issued identification document, government record or personal property
Abusing or threatening to abuse the law or the legal system
Extortion
Causing or threatening to cause financial harm to any person
Facilitating or controlling another person's access to a controlled substance
The only legal exception to the human trafficking offenses on forced labor is when it involves ordinary household chores and reasonable disciplinary measures between a parent or legal guardian and the parent's or legal guardian's child.
Penalties for Human Trafficking in Arizona
In Arizona, a person found guilty of human trafficking will face felony charges.
However, the specific charges you will face for your supposed involvement in human trafficking depend entirely upon what kind of trafficking you are accused of participating in. Following are the corresponding felony charges for perpetrators of human trafficking:
Unlawfully obtaining labor or services is a class 4 felony.
It is illicit to obtain labor or services through the use of bodily harm, threatening or restraining victim, and/or withholding victim's personal records.
Trafficking forced labor or services is a class 2 felony.
Labor trafficking is defined as "transport another person or to entice, recruit, harbor, provide or otherwise obtain another person for transport by deception, coercion or force,". Arizona Laws also state that it is illegal to knowingly traffic another person or benefit from the trafficking of another person for labor or services.
Sex trafficking is a class 2 felony
Arizona Laws dictate that it is illegal to recruit, entice, harbor, transport, provide or obtain by any means another person with the intent of causing the other person to engage in prostitution by force, fraud or coercion. If a person is under the age of eighteen, it is illegal to entice, harbor, transport, provide, or obtain by any means that person with the intent of causing that person to engage in prostitution.
House Bill 2454 from 2014 was introduced to stop human trafficking by raising the penalties and improving the protective measures that both victims and vulnerable individuals are entitled to.
According to the Bill, the sentence for a first-time offender is increased from 10.5 to 13.5 years in prison. A trafficker who has a previous felony conviction will see a longer sentence of 25 instead of 15.75 years. The sentence for people who have two or more prior felonies is increased from 28 to 31 years.
The severity of the penalty will depend on the aggravating factors. Trafficking of children and minors are the ones prosecuted most severely. If other crimes are involved with human traffickings, such as drug trafficking, or sexual assault or molestation of a minor, then you can face additional felony charges relating to those crimes in conjunction with human trafficking charges. This means:
Prison sentences can vary greatly, from many years to many decades depending on the specifics of the case
Fines can be up to millions of dollars, not counting civil liabilities and judgments you may incur if you are found guilty
In the fight against human trafficking, House Bill 2454 also introduced additional changes to previous human trafficking laws. The key ones include:
It is considered an aggravating offense if a trafficker obtained a victim from a shelter for runaway youth, foster care, homeless persons or victims of human trafficking, domestic violence or sexual assault.
Child prostitution, sex trafficking, and labor trafficking are added to the list of acts that constitute racketeering.
Any prior felony conviction (not just a human trafficking charge) will lead to an increased sentence for the second time and repeat offenders
There is an affirmative defense created for victims of sex trafficking
Advertising a minor for prostitution as a class 2 felony, or as a dangerous crime against children if the minor is under 15 years of ages
Any establishment that engages in licensed escorts business, massage parlor, and massage therapy are required to include their license number in any advertisement for services, as well as to keep on file proof of the age of anyone depicted in an advertisement for services.
Defense Attorney for Human Trafficking Charges
Being charged with a crime can put your life in jeopardy. Human trafficking charges are very serious. It means lengthy prison sentences, enormous fines, and social stigma that can hound you for many years to come. As such, if you are fighting human trafficking charges in Arizona, it is smart to immediately seek legal counsel from an experienced, reputable criminal defense lawyer who will fight for your rights.
At Howard Snader Law, our criminal defense attorneys will leave no stone unturned in combating human trafficking charges so that you can have every possible legal option and defense strategy available to you. If you have been arrested and charged with any type of human trafficking crime in Arizona, contact us for a free initial consultation.