Nearly everything that we do is impacted by the law in some manner, from making a purchase to driving a vehicle to interactions with others.  However, it is evident that we do not need the legal services of a lawyer in all of our everyday interactions. But how can we determine when hiring an attorney is an investment, not a cost? When should you or can you tackle a situation on your own? 
Sometimes problems are not actually legal—or are really not exclusively legal—and can be addressed, at least in part, with the help of a psychologist, clergy, or any other counselors. However, many situations have a legal element and need the help of a lawyer. Although these situations may be sometimes difficult to recognize, practically everybody agrees that you need the legal service of a lawyer concerning important life events or changes, such as:
being charged with a crime;

receiving a summons and complaint in a civil lawsuit;

going through the process of Arizona estate planning or creating a living trust; 

a shift in one's family status, such as adoption, divorce, or death;

a shift in one's financial situation, such as acquiring or losing valuable real estate or personal property, launching a business, or declaring bankruptcy.
Are you being accused of a crime? Do you need a criminal defense attorney who can offer you the greatest chance of success? Do you have questions about family law in Arizona, such as child custody, child support, or divorce? Are you going through a divorce process and wondering whether hiring an attorney is an investment, not a cost? Snader Law Group's Phoenix attorneys have solutions for your situation! Give our law firm a call now to ask our lawyers about your case!
Having an Attorney Yields Great Advantages But is it Cost-Effecient?
In this video, Attorney Snader explains the benefits of having an attorney on your side whether you are dealing with criminal charges and other family issues like child custody and divorce. He provides the reasons why the cost you spend on hiring an attorney makes for a great investment.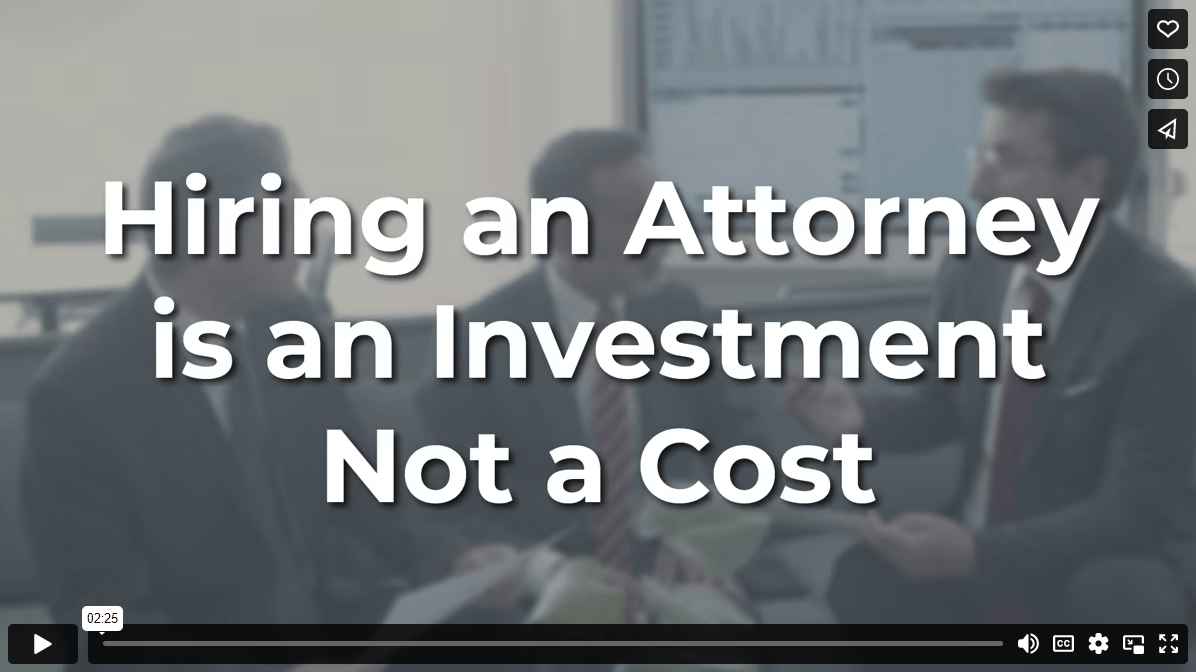 Criminal Defense Attorney: If Hiring an Attorney is an Investment, Not a Cost
When confronted with criminal charges, money can often be a high issue. When someone is found guilty of a crime, the fines can be massive, but the legal fee of a defense lawyer can also seem beyond reach. Nonetheless, hiring a defense lawyer is a wise investment for your future. In case you're unsure or hesitant to hire a lawyer to defend you against your criminal charges in Texas, take into account the following.
Investing in Protection.

One of the most important legal services a defense lawyer can do for you is to

protect your rights

. That doesn't mean you cannot protect yourself, but you should think about how well you understand the laws. Our observation of pro se defendants doing this through the years led us to believe that they don't. An experienced defense attorney knows how to protect your legal rights and how to use them to your advantage.

Consider the Costs of a Conviction.

You may not be aware of the steep cost of a criminal conviction at this moment.

Other fees may be imposed in addition to any statutory penalties imposed by the court

for your conviction. For instance, the court might compel restitution to be paid; Crime Stoppers costs to be paid, as well as ongoing supervision fees. When you consider possible employment discrimination or the possibility of losing work, you can understand how costly a conviction truly is.

Knowledge Is Might.

When you retain the services of a defense lawyer, you are essentially paying for a person's knowledge. And this knowledge is not limited to what they were taught in law school. You are actually paying for that attorney's understanding of Arizona law and how to interpret them, as well as their ability to navigate courtroom rules and litigation procedures and apply negotiation strategies. 
You can certainly try to brush up on legal knowledge online or at the library, but you cannot learn how to effectively defend cases without years of hands-on experience. Because the legal system isn't user-friendly, it is not advisable to go it alone while facing criminal charges. It's as easy as this: pay now or pay more later. And you will most likely be unable to change the result afterward.
Properly Present Your Bail Application.

You do not want to be held in jail while your trial or criminal charges are being decided. If you are denied bail by the court, you cannot have the case reheard before the same court unless your circumstances have changed. For this reason, it's crucial to do it correctly the first time. A criminal attorney will help you properly prepare and present your bail application, as well as focus on the issues that need to be addressed while fighting for your release from prison.

Correctly Present Evidence.

The rules of evidence in a criminal trial can be complicated. Unrepresented people often raise questions that violate the rules of evidence during a trial. Their cross-examination of a witness will most likely be interrupted and objected to by the prosecution, culminating in the court deciding that they should not continue with that line of questioning. 
A good criminal attorney will know what questions to ask a witness and how to frame the questions. A qualified criminal attorney can also provide legal arguments to the court as to why a line of questioning that the prosecution has objected to is important and should be allowed. A criminal attorney will also have a strategy for cross-examining certain witnesses, which may influence the result of the case.
Family Law Attorney: If Hiring an Attorney is an Investment, Not a Cost
Never attempt any legally binding process without consulting with a lawyer, particularly when it involves a child's well-being. There are several possible stumbling blocks in the child support filing process. If you do not work with an experienced family law attorney to manage this situation, you run the danger of botching the process and making an expensive mistake.
Everything, like any essential legal process, must be documented. Obtaining these papers and documentation on your own can be difficult. When people try to petition for child support without the help of a family law attorney, they risk filling out papers improperly or making an expensive error.
The family law attorneys at Snader Law Group are knowledgeable in child support processing and the nuances of Gila County law. By working with an Arizona family law attorney, you will be able to understand the scope of the law and have a trusted legal resource for any questions or concerns you may have. By having a dependable legal resource on your side, you can guarantee that your co-parent will not uncover any loopholes in your child support court order and will not be able to pay less child support or less often.
Real Estate Attorney: If Hiring an Attorney is an Investment, Not a Cost
"You would not hire your barber to do open heart surgery," as the saying goes. While it may seem to be a foolish idea, people often commit the mistake of undertaking tasks for which they are not qualified to handle or relying on a friend who claims to be an expert in a field. Real estate law is a difficult issue that should be handled by an experienced real estate lawyer. Even a seemingly simple sale can quickly turn into a disaster and cost you a lot of money.
One of these mistakes might be when a seller decides to save money by not using a real estate agent or broker in selling their house. It may save the seller money in the short term, but it may soon turn into a legal and financial nightmare for everyone concerned in the long run. Closings need a substantial quantity of documentation, and if any critical elements are missing, the real estate transaction can be judged incomplete or worse.
A for-sale-by-owner transaction may save you money on real estate fees, but you still need someone to write the deed, purchase agreement, and other documentation. A lawyer can help you prepare your legal document, confirm the title is valid, and negotiate the finer points of the deal. A lawyer can help you in resolving other difficult and technical issues that may arise. These could include boundary disputes, rights of way, easements, or any other legal issue relating to the property on which the home is built. 
You may also need legal advice if the property is subject to foreclosure or other litigation or if you have a disagreement with the buyer or seller. If someone threatens to sue you, always consult with a lawyer.
Estate Planning/Probate Attorney: If Hiring an Attorney is an Investment, Not a Cost
Although hiring a probate lawyer is not needed by law, it may be in your best interests since the probate process can be complicated. The traditional recommendation for executors and estate representatives is to "hire a lawyer." 
What exactly are an estate planning attorney and a probate attorney? You can think of these terms as before and after. Before death or incapacity, you need an estate planning attorney to help you create an estate plan. After death, you need a probate attorney.
As you wind up an estate, you may decide that you want legal advice from an experienced lawyer who is knowledgeable with both Arizona state law and how the local probate court operates. 
Poorly drafted wills can be disputed, and they will also cause you stress and conflict for your heirs. The best approach to ensure that your wishes are carried out after your death is to have a probate lawyer draft your will.
Consult with a Phoenix Criminal Defense Attorney
If you're facing criminal charges in the Phoenix area, hiring an attorney is an investment, not a cost. 
The attorneys at Snader Law Group are here to help. We will recommend the best course of action for you. Our experienced criminal defense lawyers handle a broad range of cases, including sex crimes, domestic violence, violent crimes, drug crimes, and theft and property offenses. Call today to book a free consultation with our Phoenix criminal defense attorney!