If you have been through a divorce and your ex-spouse fails to comply with the divorce decree, you could ask yourself, "What happens when you don't comply with family court orders?"
After divorce, there may be instances when a parent refuses to comply with a child custody order issued by the court. This might happen after a default is entered, the initial child custody order is issued, or sole custody is granted to one of the parties. For example, both parents may have been given joint custody after a divorce. But due to circumstances like incarceration or child abuse, one parent may have asked for and been provided sole custody. Then, the other parent refuses to hand the child back. In these situations, you can ask the family court to force the other parent to comply with the court's order.
Sadly, it is not uncommon for other parties to disobey court orders in matters apart from child custody. These may be related to:
Failure to pay child support and child support expenses
Failure to pay spousal support
Failure to comply with parenting time/Legal decision-making (legal custody)
Failure to divide marital assets
Our Phoenix family law attorney has handled challenging family law cases. We know how to resolve your case quickly while protecting your children and preserving your parental rights and interests. Aside from our legal experience, we understand how you feel because we have been there too. Let the Snader Law Group help you through this with our legal advice. Call us now to schedule a free consultation!
Non-Compliance with Family Court Orders
In this video, Attorney Snader talked about the consequences of non-compliance with family court orders. From child custody and child support to divorce, the consequences of failing to comply with court orders could be irreversible. He reiterates the importance of having a family law attorney in Arizona to make sure you are on the right track.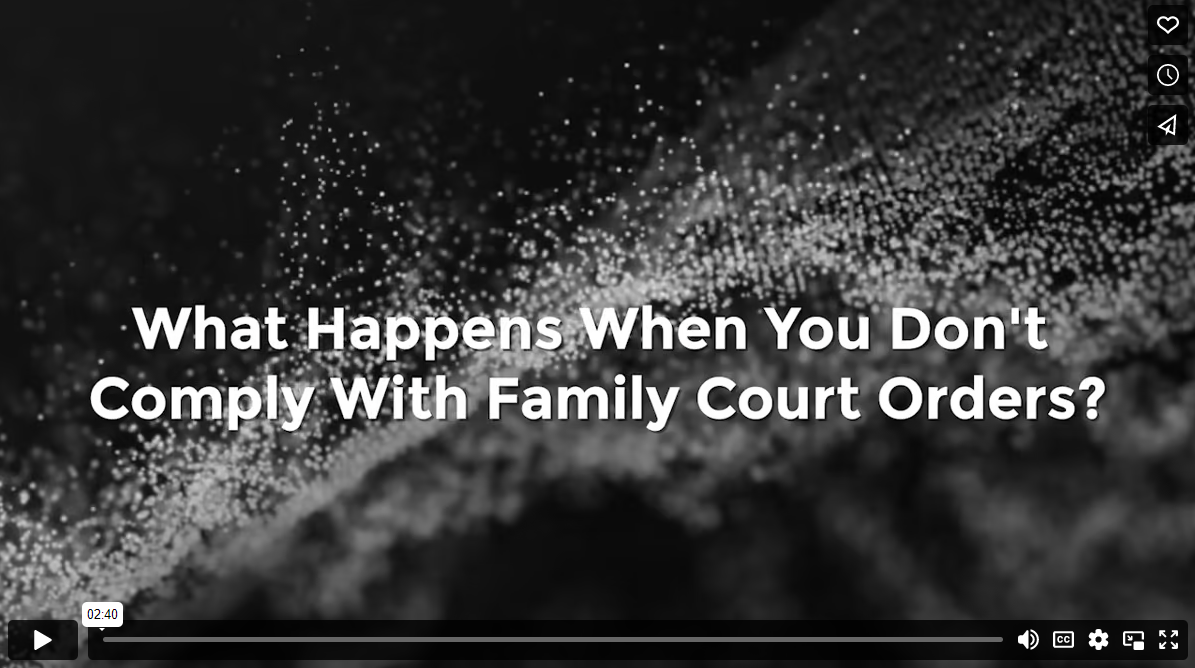 What Happens When You Don't Comply with Family Court Orders on Property Division?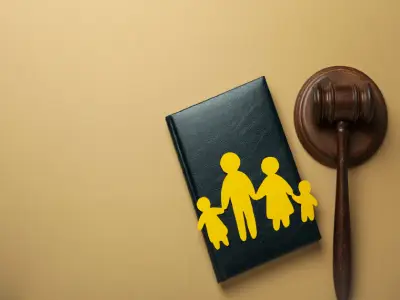 Property disputes cause many problems in Phoenix divorces. Everyone going through a divorce should know the distinctions between separate personal property and marital or community property. It is not unusual for one party to conceal marital asset information. 
A Phoenix community property attorney can help you to bring all marital assets to light to achieve an equitable and fair division of marital property while protecting your separate property from being incorrectly labeled as marital assets.
A property partition order is a legally enforceable obligation, and any spouse who fails to fully comply with the provisions may be prosecuted with contempt of court.
What Happens When You Don't Comply with Family Court Orders on Child Support and Child Support Expenses? 
If a party fails to pay their court-ordered child support payment or child support-related expense payments (such as health care costs, health insurance, and so on), the court can hold them in contempt. The court can imprison (i.e., impose jail time) and penalize a party found in contempt. Failure to pay child support is often regarded as civil instead of criminal contempt. 
Therefore, depending on what the court judges the party's ability to pay, they might order that a party be jailed until the party pays the entire or a fraction of the unpaid child support.
People may sometimes refrain from having a job to avoid paying child support. This is usually a big mistake because child support arrears will follow the person until they die (i.e., there is no statute of limitations). The court may determine that the party is capable of working and may continue to imprison the person until that person has shown genuine efforts to get and keep employment.
People may fail to pay child support because they say they do not have enough money to pay for their essential bills. Again, this is a mistake because Arizona law states unequivocally that child support must take precedence over all other financial responsibilities.
If a party cannot pay child support, they should pursue a modification rather than lessening or refusing to pay. Or else they may have to learn their lesson in jail.
What Happens When You Don't Comply with Family Court Orders on Spousal Support?
In the same way, that child support is enforced by contempt, failing to pay spousal support may result in prison time and other penalties until the payments are made. It is advised that spousal support payments be made before other financial obligations. You will not be imprisoned for failure to pay credit card bills. 
However, you can be for failure to make your spousal support payments. Again, if you cannot make your spousal support payments, you should pursue termination or modification of the spousal support award rather than just discontinuing or lowering your payments.
What Happens When You Don't Comply with Family Court Orders on Parenting Time/Legal Decision Making (Legal Custody)? 
A party may be held in contempt if they disobey parenting time and legal decision-making directives. So, a person who breaks this law can be sent to jail or get a fine for their failure. It is fairly commonplace for the court to compel the offending party to attend parenting classes, undergo therapy, or take other measures to "learn to behave" better. 
Courts often give make-up parenting time. The non-offending party may be awarded legal decision making authority or more parenting time if it is in the best interests of the child. In severe circumstances, the offending party may be given limited supervised visitation until their conduct improves.
What are the Legal Ramifications When You Don't Comply with a Family Court Ordered Divorce Decree?
Judges and lawyers will cite ARS 13-2810, which details the statutes governing interference with a judicial proceeding and court orders.
Judges do not treat cases like these lightly, and depending on how these people conducted themselves during the divorce proceedings, they may be subject to grave penalties. It is crucial to remember that, even if you went through a divorce proceeding, the judge ultimately makes decisions on what arrangement is the most reasonable. Failing to comply with a divorce decree may result in the judge changing the divorce decree.
If one party fails to comply with a divorce decree, a court may modify the final decree as follows:
Reduce the child custody time of the failed party (or remove their chances of custody at all)
Raise the amount of child support that must be paid 
Increase the amount of alimony that must be paid 
Give the behaving spouse marital assets
There is no sense in not following the divorce decree. It will only have negative implications for the party who refuses to adhere to the rules imposed by the court. If your ex-spouse continues to break the rules for any reason, they may be arrested and imprisoned.
Why is it Important to Comply with a Divorce Decree?
The most critical aspect of any divorce case is that everything is done in the best interests of the child. Judges and attorneys want to do everything necessary to ensure that the children involved are not too emotionally damaged resulting from the process. Research conducted by the US Institute of National Health shows that children of divorce have a higher chance of dropping out of school, getting in trouble with the law, abusing drugs and alcohol, and being depressed.
The true purpose of establishing custody and parenting time is to provide a child with the best chance of succeeding. When a parent fails to comply with the terms of their divorce decree, they are violating a legally binding contract and seriously damaging their child.
Even if no children are involved in the divorce, failing to comply with the divorce decree may have considerable ramifications for both parties. A divorce decree is a legally enforceable document that ensures each ex-spouse is reasonably set up for success when the divorce is final. If one of the parties is reliant on alimony payments and does not receive them, they may fall behind on rent, bills or even become unable to purchase food.
Divorce is hard for many reasons, but do not forget that you once cared about this person enough to get married to them. Acting cordially is the most effective way to handle your divorce and go on with your life.
How to Enforce a Divorce Decree
There are several steps you need to take to enforce a divorce decree. However, the first is to contact a divorce decree attorney. Not only do these attorneys know how to handle divorce cases, but they also know how to make the best of a bad situation.
You can also use community resources, like the child welfare office, to help enforce a divorce decree. But given the high volume of cases they must handle and their limited workforce, this could be a time-consuming alternative. Working with an attorney will ensure you have the tools you need to ensure that this matter is taken care of as quickly as possible. Multiple divorced single mothers depend on child support to pay for their bills and feed their children.
Contact our Best Family Law Attorney in Phoenix, Arizona, Now!
Whether you are an aggrieved party or a party who has violated a family court order, it is crucial to consider the question, "What happens when you don't comply with family court orders?" A violation of family court orders is a serious offense that can result in jail or fines, depending on the severity of the offense.
Even though you can represent yourself in a family law court, it is generally not a good idea, even more so if the other party has hired a family law attorney. Hiring Snader Law Group as your Phoenix divorce attorney levels the playing field and relieves you of most of the stress of negotiating with your ex. Our Phoenix, AZ, divorce attorney becomes your spokesperson, speaking on your behalf in this family law procedure to protect your rights and interests.
We have helped people in the Phoenix metro area and all over Arizona. No matter how complicated the case may be, our clients always feel strongly represented and appreciate our aggressive legal strategies.
Call Snader Law Group immediately to schedule a free consultation with our family law attorney!